8 Credits
info_outline
This lab costs 8 Credits to run. You can purchase credits or a subscription under My Account.
01:30:00

Deploy a .NET Sample Application Using AWS Elastic Beanstalk
Self-Paced Lab
SPL-167 - Version 1.0
© 2018 Amazon Web Services, Inc. and its affiliates. All rights reserved. This work may not be reproduced or redistributed, in whole or in part, without prior written permission from Amazon Web Services, Inc. Commercial copying, lending, or selling is prohibited.
Errors or corrections? Email us at aws-course-feedback@amazon.com.
Other questions? Contact us at https://aws.amazon.com/contact-us/aws-training/
Introduction
Overview
The lab will give you a basic understanding of configuring a .NET application for AWS Elastic Beanstalk with Visual Studio. It will demonstrate the basic steps required to install Visual Studio Community 2017 in Amazon EC2, and how to deploy a specially configured application using AWS Elastic Beanstalk.
Topics covered
By the end of this lab you will be able to:
Deploy a .NET application with AWS Elastic Beanstalk using both the AWS Management console and Visual Studio 2017
Configure the .NET application to use an RDS database instance via .ebextensions.
Prerequisites
To successfully complete this lab, you should be familiar with Visual Studio and have a basic knowledge of connecting to, and using, Windows systems.
Mac Users: Download Remote Desktop Client Software
If you are using a Mac, you will require Microsoft Remote Desktop (with the red icon):
Mac users can download Microsoft Remote Desktop from the Mac App Store.
Pre-Created Environment
This lab pre-creates and configures AWS services when it is launched. Below is the environment created for you.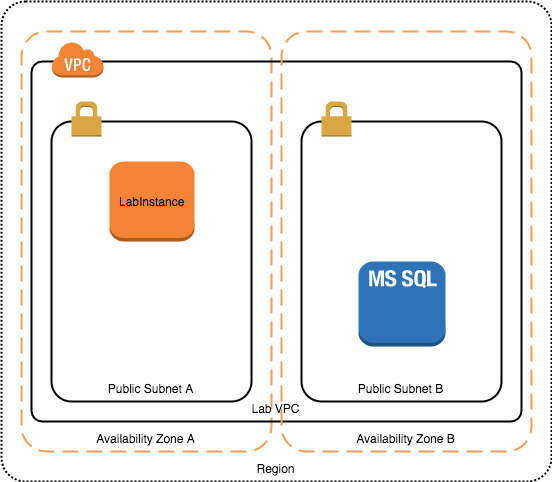 The Lab Instance has Visual Studio 2017 installed and the project files you require are unpacked on the desktop.
The MS SQL server is an RDS instance. The sample application will read and write data to this database once it's deployed to the AWS Elastic beanstalk environment.
Other AWS Services
Other AWS Services than the ones needed for this lab are disabled by IAM policy during your access time in this lab. In addition, the capabilities of the services used in this lab are limited to what's required by the lab and in some cases are even further limited as an intentional aspect of the lab design. Expect errors when accessing other services or performing actions beyond those provided in this lab guide.
Join Qwiklabs to Read the Rest of this Lab...and More!
Get temporary access to the Google Cloud Console.
Nearly 100 labs from beginner to advanced levels.
Bite-sized so you can learn at your own pace.
Join to Start This Lab